Meet Nate, one of the most darling almost two-year olds I've ever laid eyes on. I leave Wednesday morning to go to the orphanage down on the Southern tip of the Vietnam peninsula to meet him and the 27 other babies who live there. We've been trying to adopt this darling boy for more than a year, but issues with the Vietnamese govt that are way beyond our realm of comprehension are preventing us from bringing him home.
So, we're going to them Two amazing moms went in August and two awesome moms are there now, and I will meet up with them.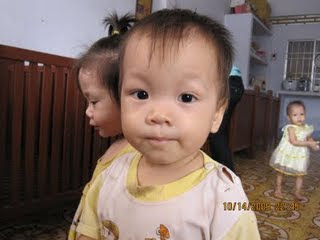 Here are a few pics, but get ready to be inudated when I get there. Fingers crossed that I can master the camera and videocamera and that the internet fairies are being nice.