I'm writing this one-handed, not the easiest task. So,please forgive any typos or misspellings. 
You see, I broke my wrist..on vacation…hiking around a volcanic crater…in Iceland.  
I had just completed a bucket list item of riding an Icelandic horse, the purest breed on earth with DNA dating back 1,100 years ago.  A horse lover and rider, I have always wanted to experience their gait that no other horse can produce.  We road along the foothills of mountains dotted with lava fields and i had a smile on my face the whole time, among the most amazing things, Ive done.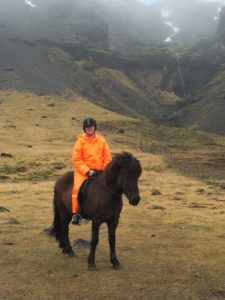 My sweet and patient husband kept my two young boys busy in the farm's waiting house.
ou main goal for the day was to drive the Golden Circle, a 180 km loop that hits some of southwest Iceland's most famous and beautiful sites. 
We were visiting a majestic site, Kerid, a crater formed from an extict volcano with a rainbow of colors  – a clear cerulean lake at the bottom, unusual red volcanic rock around the sides with varying shades of green moss from chartruese to forrest.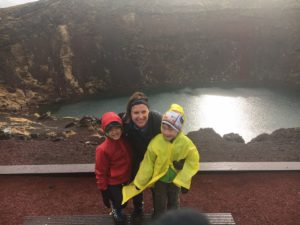 It had been misty, so it was slick, but the trail around the crater didn't seem too bad.  Still, i was quick to continuaaly remind everyone to "be careful" and "slow down."
i had just taken a lovely photo of my three boys and we were continuing our walk around the circumference when I took a bad step on some very slipper
y mud and landed squarely on my left wrist.  i heard a sickening snap and knew it wasnt good.
Still, I put on my big girl panties, sucked it up and journeyed on our hike, besides, it was the only way back to the car.
We found a restaurant to get some ice, but by the next stop, Geysir, with incredible hot 
spring spouts, and where the term "geyser" originated, I knew i needed a doctor.
We used Google maps to find a health clinic, and there was one about 15 minutes away.  But they didn't have a x-ray machine, so we headed back to Reykjavik.  
Hospital #2 didn't have an x-ray machine either (and I later learned that it was a heart hospital), but they directed us to one that did.
Luckily, Icelanders speak impeccable English, so I had no problem getting treament or understanding what was going in.  I was examined, x-rayed and casted within about 2 hours and the hospital was just like getting treated in the U.S., except for the price tag — a very reasonable US$590.
Here are a few things that I did learn:
1.  Always have access to your passport.I recommend securing your original passport in your hotel safe, but carry a copy or have a photo of it on your phone at all times.  Healthcare providers will have to have the information to give treatment.
2. Travel insurance is worth the cost.  i bought some very inexpensive coverage (i think around $20 per person) when I purchased our airline tickets, mostly to protect us in case luggage was lost or flights cancelled, but having my kids with me, also made me more cautious. if you have a chronic condition or have health challenges, you might consider purchasing a more comprehensive plan, but most are under $100 per person that include medical evacuations and coverage up to $15,000.
i have also filed the claim under my private insurer and am curious to see what they pay, if any, but the travel should cover the full amount,
3. Go ahead and seek treatment.  I fell on Thursday and we were scheduled to leave on Friday.  A couple of times, I considered toughing it out until we got home.  That would've been a really bad decision.  yes, it was a giant inconvenience, but hopefully it saved me from surgery or further injury by getting seen in-country.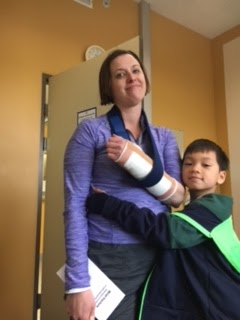 It does make for a good story. i have been clumsy and accident-prone since childhood, so I could have just as easily broken my wrist my walking down the stairs in my house, but i now have a story souvenir.

i felt quite foolish falling, but i did feel better when the nurse handed me a brochure in English about breaking your wrist.  I guess I'm not the only English-speaking idiot to venture to incredible Iceland.