Despite his travels all over the world, my husband's most requested destination over the last twenty years has been Colonial Williamsburg, and some how we haven't made our way there yet. However,in planning our recent trip to Washington D.C., we decided to take a short diversion to check it out (about a 2.5 hour drive from the City).
Perhaps it's my renewed interest in colonial times thanks to my obsession with BBC favorite Poldark, or seeing Nick's enthusiasm about going, but I was excited to don my bonnet and petticoat and travel back 300 years.
Prices were a little steep – although similar to a day at an amusement park – with $25.99 ($12.49) for kids) for access to just four sites and the grounds and $40.99 ($20.49 for kids) for access to everything.  My only regret is not renting costumes for the boys to wear around.  You can rent costumes for kids and adults at the vistor's center to get a more authentic experience.
After checking out the visitor's center and getting our tickets, we ventured out to see the early settlers in their tradtional 1700s town.
With just a day to explore, we opted just to walk the grounds and historic areas, watching tradesmiths artfully execute their crafts and touring the homes and buildings.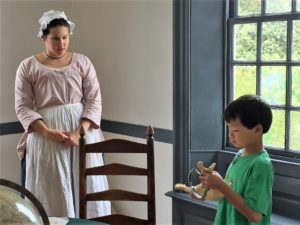 The guides in the houses were wonderful teachers and captured the attention of both the adults and children, providing great history and details without it feeling like a lesson.  Of course, the kids were most fascinated by chamber pots and grossing out at the prospect of using them!
In one house, they had set up traditional Colonial children's toys, wooden spools and wollen balls (like mini bowling), the ball and cup game and some other items.  Our boys quickly made two friends and they spent about 20 minutes on the floor creating their own versions of the games, giving me pause to consider tossing out all electronics and noisemaking toys in lieu of spurring imagination with rudimentary toys (although I'm guessing 20 minutes may have been their limit of not having legos or ipads to play with).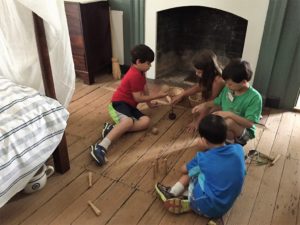 Most of the people who perform the traders are masters in their art.  You can purchase jewelry made by the silversmiths; buy ginger cakes and baked goods from the bakery that still uses a wood fire oven.  Most of them do a beautiful job explaining how they create their wares and engaging the kids. Some of them stay in complete character the entire time.
My 9-year old really enjoyed seeing a demonstration of a musket being fired and the blacksmith explaining how they would fashion tools and other items with the traditional forge.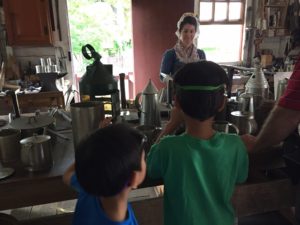 A highlight was a kids area where they could play games that Colonial children would've played, making marbles out of clay, blowing bubbles,a hay maze and even milking a fake cow.,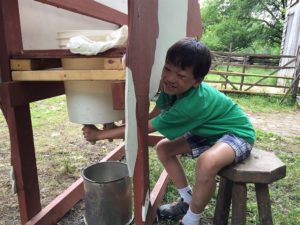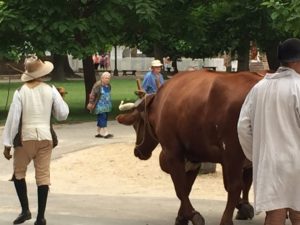 There are several interactive programs and sessions as well. They have an area where kids can be "archeologists in training" at a site that housed a store of some kind.  They are digging up the basement to determine what the store sold. You can also watch a trial, Or, put your kids in the public stocks.  Nate the Adventurer had something to say about that…
To be honest, our trip planning wasn't the best for this leg of our journey.  I would've been better off determining a plan of attack to make the most of our day in lovely Williamsburg.  Instead, we loosely followed their map as we walked along, going into the various shops and buildings as we came to them.
I would also make reservations for their restaurants.  We had quite a wait for lunch.
Still, it made for a very nice day and a living museum offers a unique experience and great memory for the boys.  And, we walked in the same footsteps as many of our nation builders like Thomas Jefferson, Patrick Henry and James Madison, can't get much closer to history than that.
And perhaps my 9-year old said it best.  He felt like he had "traveled back in time", which is probably as good a complement as a historical site could ever get.