Want to do a "trial" European family vacation without crossing the Atlantic?  Head north to Quebec, Canada. Right now the U.S. dollar is very strong in Canada and it's a quicker flight than even the closest European cities.  Montreal, Mt. Tremblant (darling ski village – are you in Switzerland or Canada?) and Quebec City are full of fun for families of all ages.
My husband and I were fortunate enough to live in Montreal for a year and a half many years ago, and thoroughly enjoyed the culture, the people and the European-esque feel, particularly in the Old Town/Port (Vieux Port ), Notre Dame de Grace neighborhoods.  We are still good friends with many of the people we met while living there.
Brush up on your French.  It's still the main language, but in Montreal, everyone speaks perfect English.  I always enjoyed speaking my high school French while grocery shopping or in a restaurant, only to have someone reply in English – smack down!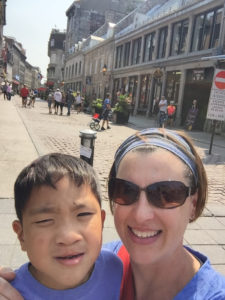 In Old Town, meander through the cobblestone streets (St. Paul St. is great for restaurants and shopping) and imagine being in a town in France or Belgium.
The Montreal Subway is a great way to get around town.  It's easy to navigate and very reasonably priced.  Plus, you'll find the underground city, now known as RESO, that connects the stations with  restaurants, bars, shops, businesses, even a library and movie theater.  You can access almost any point downtown via this maze of tunnels.The bitter cold winters necessitated this great respite from the elements.
Kid-friendly:
Right at the port, the young and old will delight at the Montreal Sciences Center – excellent exhibits and hands on activities.  For a more outdoor experience, Voiles en Voiles is a ropes course in a pirate ship – there are zip lines, obstacle courses and climbing walls.
Get a View:
Hike or drive to the top of the city's namesake Mont Royal, and stop at St. Joseph Oratory, a beautiful Church dedicated to St. Joseph. the grounds are lovely, and there is a creche museum, featuring beautiful "birth of Christ" renditions from all over the world.  It's a great view as well.  And, for a higher look at the city, check out the old Parc Olympique, home of the 1976 Summer Olympics, where you can ride a funicular up to the top of the Montreal Tower, the iconic angled tower.  Nick and I once did a 10k race through Montreal and the finish line was in the Olympic Stadium which was really cool.
Come hungry:
Atwater Market is a culinary cornicopia of vendor stalls filled with fresh produce, flowers, pasteries, meats and cheeses.  There are restaurants around the periphery of the market, so you can eat on-the-spot as well take home some amazing local food.  I wouldn't call myself a foodie, but this is a must-do destination and a feast for the eyes, ears and nose.
You can also pop in a bakery for a baugette, crave a crepe (Chez Cora is our favorite – several locations and enormous crepes), find a fondue restaurant, or polish off some poutine, Quebec's unofficial official dish.  And, St. Viateur is famous for their amazing bagels, after all, you'll walk it off through this very strollable town.
Head North:
There are the most charming ski towns just northwest of Montreal – you'll feel like you're in Europe. During the winter and parts of spring, winter activities abound at Mt. Tremblant (the biggest town), but St. Sauveur and Mont Olympia are darling and great for beginners.  In the summer, many of them have zip line courses, alpine slides, water sports and other outdoor activities.
Now Head Northeast:
Quebec City is perhaps the most European-like town in North America.  It's teeming with history and gorgeous architecture, and is the only walled city north of Mexico. Simply wandering its streets is an experience in itself.  Take in the views of and from the Fairmont Le Chateau Frontenac – a castle-looking fortress that sits on top of a hill overlooking the St. Lawrence River.  Staying there will cost you, but at least walk up the hill to enjoy the picturesque vista and enjoy a cafe au lait.
And the exquisite Musee National des Beaux-Arts is a great history lesson in the of art and culture of Quebec.
I've seen really good airfares to Canada recently.  U.S. adults do need a passport, but those 16 and under can use birth certificates.  Best to check for sure before you travel.
I love Canada no matter the province  — I have been lucky to live in Quebec and travel to British Columbia, Ontario and Nova Scotia.  Quebec is unlike any other place in North America.  If you want to save money, or not travel quite as far and still experience a European adventure, it's a an excellent surrogate and unique destination.
Bon voyage!