Our nation's capital is definitely one of those cities where there's more to do than you could ever hope to get to in one, or even two, trips. You could spend a month between Washington D.C. and Baltimore and only scratch the surface of incredible historical, educational and fun sites and activities.
It definitely deserves a good deal of vacation planning and preparation.
But, you have to start somewhere.  And we only had four days.  Here was our plan of attack: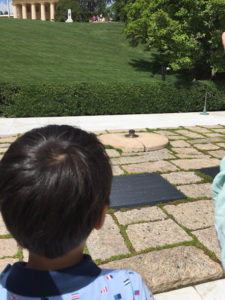 Day 1: Arlington National Cemetery, including Tomb of the Unknown Soldier and the John F. Kennedy's Eternal Flame.
There are few places in the U.S. that deserve such reverence, respect and solitude.  My 7-year old proved to be a challenge from that regard, so consider the age (and how much sugar and caffeine your kids have had before going).  My 9-year old had no issues and understood the significance and gravity of this hallowed ground.  It helped that my history major husband had some great knowledge, not only about the wars themselves, but some of the heroes who rested there.  For future trips and older kids, hiring a guide could prove to be a very worthwhile investment.
White House:
If you want an actual tour of parts of the White House, you need to contact your US House Representative's office at least two months in advance.  This mama didn't do that, so we simply viewed it from the outside.
Washington Monument:
Easy walk from the White House.  It's currently closed as they are fixing the elevator to the top floor,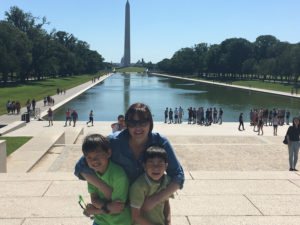 View from Lincoln Memorial down the Mall
but it is still an impressive site and an icon.
Smithsonian Museum of American History:
I remember it from 30+ years ago and visiting as an 8th grader.  Again, incredibly cool and iconic exhibits like the American flag that was first raised at Fort McHenry and even Indiana Jones' whip and trademark hat.  It deserves a refresh and update, though.  Luckily, it's free because it didn't hold my little ones' interest for very long.
Day 2:
The Mall: Lincoln, Jefferson, Korean War, Vietnam War and World War II Memorials
Awe-inspiring for sure, although my kids only appreciated the Lincoln Memorial as that's what they knew most about.  For me, the WWII Memorial was most moving as there were several Honor Flight veterans who were there, too.  And, how wonderful to see children (including my own) and adults, shake their frail hands and offer a "thank you" to these heroes of the greatest generation who had an almost "rock star" treatment – getting photos and videos with grateful strangers.  I'm glad I had glasses on because I teared up more than once.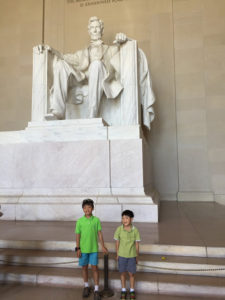 Smithsonian Air & Space Museum:
I've been there four times, and I still love this place – the kids did, too!  Where else in the world can you touch a moon rock?  Not only incredible planes and space craft hanging from the ceiling, but some great interactive exhibits as well, including a space station.  This one has definitely held up over time.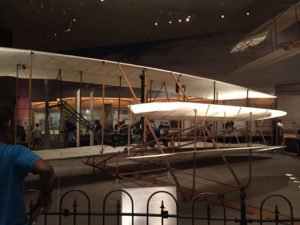 Original Wright Brothers Plane, the only update is the fabric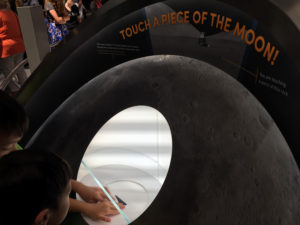 Day 3:
Visited a friend in Baltimore and pool!  The kids were pretty tired by this point – walking all over DC and Williamsburg a few days before.  So, we cancelled our plans to go to the National Archives in favor of some time to visit with a dear friend, rest,  and enjoy a little pool time.  We took the train from DC's Union Station, which was a really fun experience, too.  We really love train travel (have also done so from Albany to NYC).  I will pen another post soon on the importance of banking at least a half-day of "downtime" particularly if your vacation is full of walking and sightseeing.
Day 4:
My husband and I split up – he took my 9-year old to the Spy Museum (which they both loved), and I took my younger son to the National Zoo.  And, sprinkle in some awesome people-watching, conversations and solidarity with the Pride Parade that was going on that day.  Alex was given a button and a purple-sequined hat by some beautiful people.  Another post coming on not having to do everything, all the time together during a vacation.  It was a great compromise for us!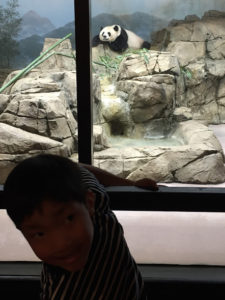 Alex and his favorite animal
We took the Metro 90% of the trip, as we are huge fans of subways – and it was very inexpensive. Didn't eat anywhere too special, but we're not foodies and usually focus on some fairly healthy options for the kids at an Asian restaurant or Panera-type place. I could've researched some fun family-places more for this trip.
Still, there's soooo much more we could have done in D.C.  But we didn't cram in too much and it worked in our favor. Luckily, my husband has a conference there in two years, so we'll be back to explore it more. Hot on the list for next visit: National Archives, boat ride on the Potomac, Mt. Vernon and the American Indian Museum.