Instead of shopping on Black Friday, we decided to opt outdoors, and went hiking around a cool, old remnant of the roaring 20's just outside of Louisville, Ky.  – Rose Island at Charlestown State Park in Charlestown, Indiana.
About 11 miles east of Jeffersonville along Highway 62, Charlestown State Park is one of the state's newer parks, along the Ohio River.  There are several nice hikes, both paved and rugged and a campground.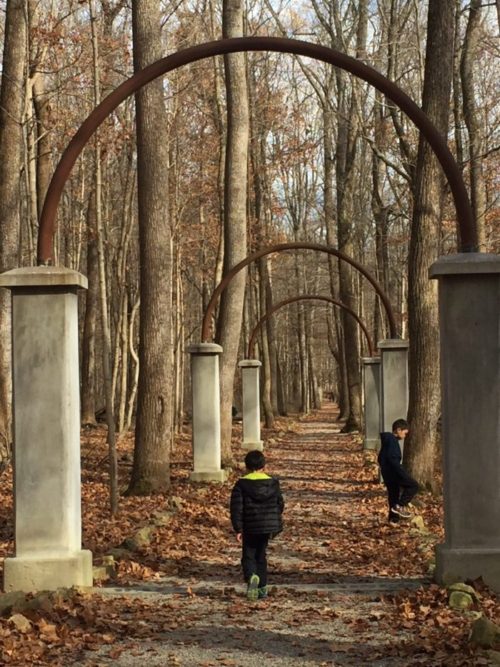 A truly unique trail, we trekked Trail #3 to Rose Island, a former summer resort from the 1920's and 30's, where you can see the remains of a  swimming pool, arches from a promenade, chimney from the dance hall, the concrete base of a fountain and even part of the enclosure where a black bear was once kept.
There are informative signs at each former facility – the landing where the steamboat brought visitors, the grand hotel, and cottages that have pictures and details about the resort in its former glory.  And if you can crank it fast enough, there is a wind-up device that has audio recordings with additional insight.
The Rose Island Island Resort was a victim of the epic Ohio River flood of 1937, one of the worst floods in U.S. history, displacing two-thirds of the Louisville area residents, and sending water miles inland around Indiana and Kentucky. The property was 10 feet under water and poles noting the water's height are scattered about the trail.  After the flood, they didn't restore the buildings, and they were left to ruin.
Access to Rose Island has only recently been restored, as the former suspension bridge that once took visitors there hasn't been there for years.  In 2011, the State moved an old iron truss bridge from Portersville, Indiana (western part of the State) across 14-Mile Creek so that those hiking around the park could get a glimpse into the past.
Just a 2.2-mile trail, there is a steep hill to get down to the island.  It was a good workout coming back up, and I could feel the burn.  My fitness level was questioned after seeing my 7-year old skip up most of it without breathing heavy.  The path is paved down to the bridge and is well-groomed around the Island, easy for little ones to walk without worrying about them tripping over roots or rocks.
The boys enjoyed learning a little bit of history about the Island and especially liked pretending to swim in the pool. A fan of the Gatsby-era, I loved imagining what fun must have happened while the resort was in its heyday.