It's one thing to make your house feel Christmasy with a tree, stockings, lights and mistletoe, a fire roaring, cookies baking in the oven.  It's quite another for a city to evoke a holiday feeling.  However, Indy has always captured a Christmas spirit this time of year.
Downtown boasts one of the "largest" Christmas trees in the U.S. – 52 strings of lights that are draped into a tree shape from the top of the 284 foot Solider and Sailors Monument with 10 foot painted soliders and sailors standing guard around its base.
There's also a brilliant lights display at Reynold's Farm Equipment with everything from Santa and Rudolph, to tractors, trains and Snoopy outlined in lights.  Boasting one million lights, you simply drive around their property to view the 100+ displays that have been oohing and ahhing visitors for 25 years.  It's free and always puts my family in the Christmas spirit.
Add the typical cold weather, occasional snow, and poof the holiday season arrives.
Last year, the city took it up a notch by adding Lights at the Brickyard at the Indianapolis Motor Speedway.  Visitors can drive around the 2.5 mile track at a much slower pace than the 125 mph during the Indy 500 to view 400 light displays.
This year, however, there are a few new additions that make Indy a must-see destination for holiday lovers.
The Winterlights at Newfields (grounds of the Indianapolis Museum of Art) is in one word: MAGICAL.  The property is gorgeous any time of year with manicured landscaping and large outdoor sculptures, but add in a million Christmas lights and it is a wonderland. Large lit snowflakes hang from trees and bushes with flowered lights illuminate your path as you walk toward the Ruth Lilly mansion.  And then you hear the joyful flutes from The Nutcracker Suite being played on loud speakers.  The front lawn of the mansion is now a stage with various light displays that are lit in sync with the music.  My boys and their friend were dancing around, but all I could do was stare at the lovely show and smile.
The Ruth Lilly mansion is available for a tour and is decorated for Christmas – don't miss the 1956 Cadillac in the basement.  Who can guess how many times I reminded my boys to keep their hands in their pockets?  "Don't touch anything except the floor with your feet!"
As you walk down the path from the mansion, there is a golden light coming from a white tent – yes, apple cider with bourbon (or without) and hot chocolate with peppermint vodka (or without) is available for purchase.  Yes, please, especially to warm up a cold night.  Apple cider, the Nutcracker
music playing in the background and glowing trees and light displays was cheery enough for me to feel like I was in the middle of a Hallmark movie (new girl in town is tasked with putting on the best Christmas display ever, knocks it out of the park, and falls in love with the benefactor of the exhibit's son in the process) .
There are warming stations to heat up cold hands, a s'mores station manned by the Girl Scouts (where they give you the fixings and a skewer and you go to a fire pit, roast the marshmallows and build your treat.) and more light displays to wander around.  One of the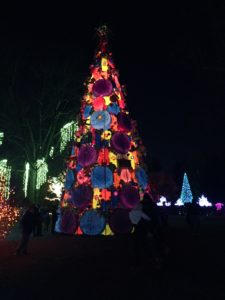 highlights is a huge tree sculpture made out of plastic baby pools and other plastic toys.  There is even a kissing arbor which would be a perfect spot for marriage proposal.
I really can't recommend Winterlights enough.  It totally espouses the holiday spirit and kids from 1 to 99 would all enjoy it.
And some international influences are being integrated into Indy's holiday scene. Also new this year is the Carmel Christkindlmarkt.  In Indy's north suburb, they have taken the green between two performing arts theater and made it into a European Christmas Market, complete with an ice skating rink.  Little wooden huts have different Christmas wares from Germany, although the biggest line was for the Gluhwein, hot, mulled wine, which trust me, will warm you up even on the coldest day.
And, still on our list to visit is the Chinese Lantern Festival which is at the State Fairgrounds.  From their Web site: "The Indiana Chinese Lantern Festival will light up Indiana State Fairgrounds with 33 larger-than-life illuminated displays crafted by Chinese artisans. Our team of artisans hail from Zigong, Sichuan, China's cultural capital for the ancient art of lantern-making."  They also have acrobatic and dance performances, handicrafts and food.  The photos I've seen from it are amazing.  I can't wait to go.
If you need some holiday cheer, head to Indy. I guarantee you'll leave wearing some Christmas lights around your neck, a Santa hat on your head and a glow that you didn't have before