We drive up I-65 between Indy and Chicago a few times a year, and have always wondered about the Albanese Candy Factory in Merrillville. It seems that we're always in a hurry to get to Chicago or come home when we drive by their exit, so we haven't been. However, this trip, we had a little extra time and decided to check it out as part of my family travel resolution to "roam close to home" and check out the smaller, less-known attractions.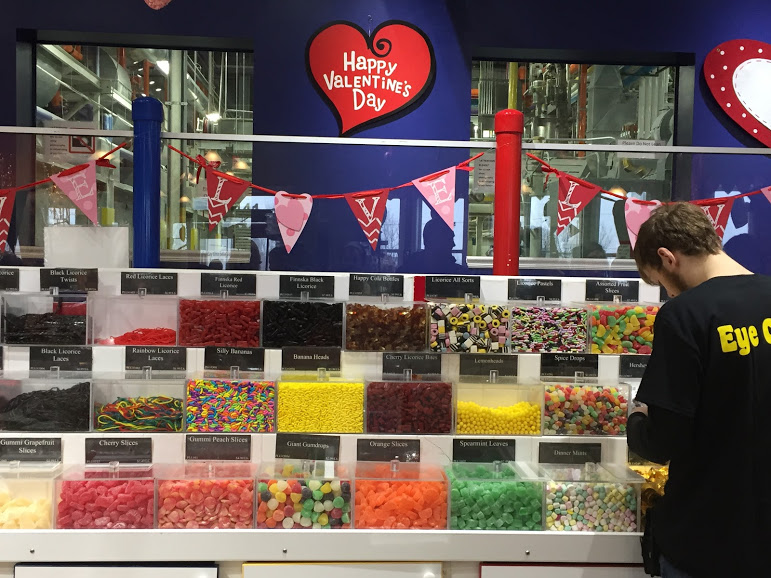 For more than 30 years Albanese has been making awesome gummy bears (in 12 different flavors, sour or plain, and shapes like butterflies, worms and fruit). They also make a ton of other sweet treats – chocolates, nut mixes and even sugar-free delights.  The candy is made on-site at the Merrilville, Indiana store/factory.  You can get a guided tour for a group, or just do a self-guided tour, which is basically just walking along an elevated hallway and looking through windows at the confections being made (no photos are allowed of this area).
My boys eyes almost popped out of their heads at the sight of their enormous shop which has hundreds of candy choices with dozens of bins of both Albanese and other candymaker sweets, so you can mix and match.  The prospect of filling up one small bag with their favorites was a bit overwhelming. I am thankful for some very patient candy store employees. Hmmm…cherry or strawberry bears? Sour worms or rings? Lemonheads or Hot Tamales?  Or, all of the above?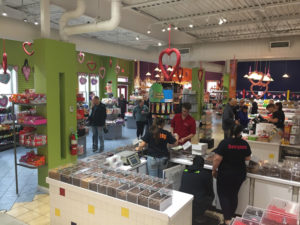 If you've got an extra 30-45 minutes on your trip along I-65, near Merrillville, stop in and get a sugar rush from the Albanese Candy Factory. 5441 East Lincoln Highway, Merrillville, Indiana 46410
We had an incredible trip up to Grand Geneva Resort in Wisconsin last weekend (and why we were taking the route up 65).  The boys tried skiing for the first time, and the resort was perfect for winter sports novices like us – more to do than just ski, snowboard, skate and sled. I'll have a piece up on KidTripster in the next week or so with a lot more details.