Want a taste of the Far East without the expense of traveling there?  Head to a local Asian Market. I lived in China and have spent extended periods of time in Vietnam, and shopping in our local Indy Asian markets takes me back to my time there. It engages all five senses.  The pungent smell of durian fruit, fresh fish and Peking Duck will perk your nose.  The bright colors from the myriad of fruits and vegetables you won't find at Kroger like dragonfruit, jack fruit and taro and aisle after aisle of brightly hued labels from sauces, snacks and spices keep your eyes piqued.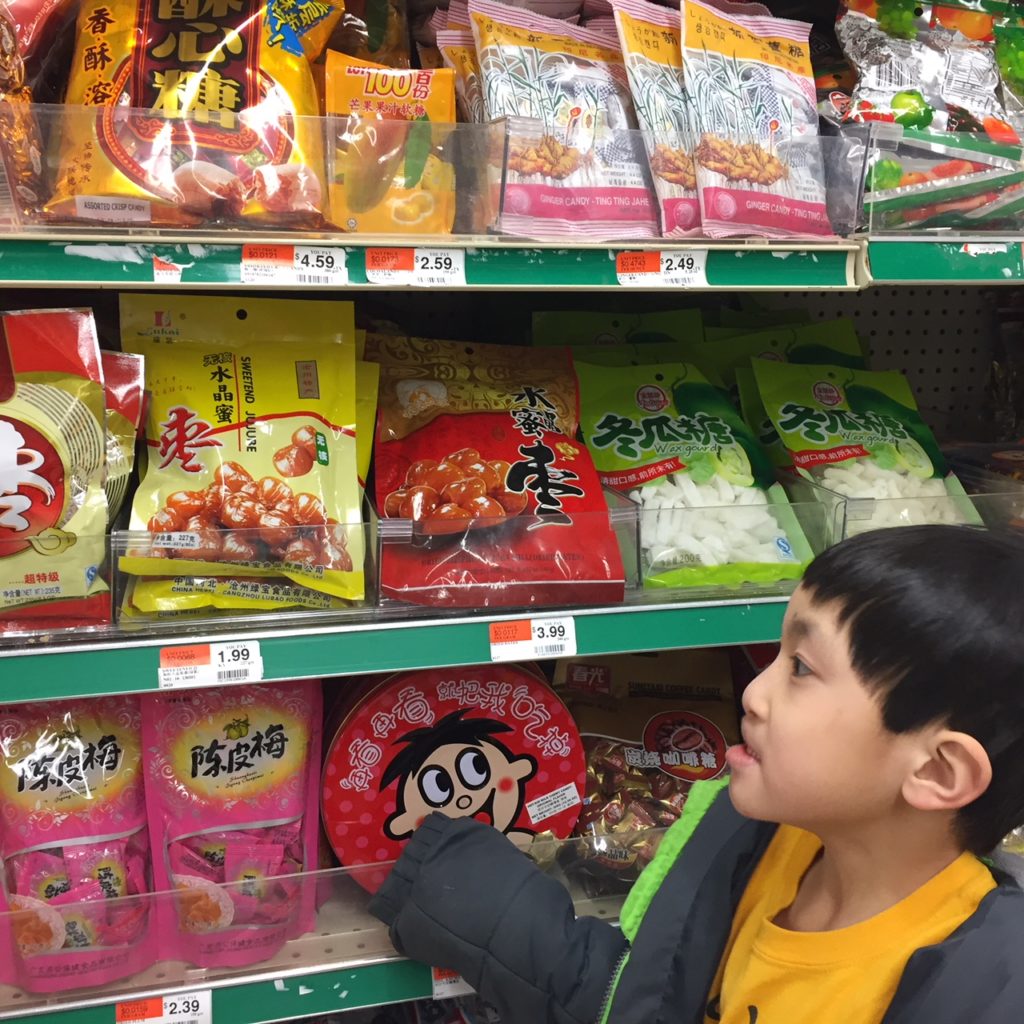 Various languages will fill your ears; and you'll definitely feel your toes gettng squished when your kids drive the cart over them.  And the taste – well, that will wait until we get home to cook our goodies.
I love to go because it reminds me of my time in Asia, but it's also a great educational opportunity for my boys and helps them understand a little more about the food from the countries of their birth. I love pointing out which culinary delights are from Vietnam and China and then buying some to make at home. Instant Pho is a big hit at our house, so I have to make sure I grab several packets, and Alex always likes picking out Chinese cookies (and I load up on teas).
Viet Hua, the store we go to the most, carries items from China, Vietnam, Thailand, Taiwan, Japan and the Philippines. And, most importantly they have our family favorite Japanese sponge cheesecakes (seriously, we fight over these at home). They also have a wide selection of cooking items – woks, chopsticks, bamboo steamers, and tea pots. You'll also find rice noodles, soba noodles, udon noodles and more choices of soy sauce that you ever dreamed possible.
Our most recent trip was to gather fun candies and food for Chinese New Year and Tet parties at the boys' school (more on that soon).  They had special imports with traditional food for the celebrations. We filled our cart with lots of goodies.
For a literal and figurative taste of the Pacific Rim, I highly recommend a trip to your local Asian market.