School is almost out and summer vacations are just weeks away, so it's time to start preparing for your travels. Packing used to be one of my more stressful parts of preparing for a trip, but I've discovered a few tips and tricks to help you pack less and and be more efficient.
1. My first rule of packing lighter is to stay somewhere with a washer and dryer. We have been able to cut our packing significantly by doing laundry halfway through the trip. I usually do it at night just before bedtime or first thing in the morning before we start our day. You'd be surprised how many hotels have laundry facilities, and you can search for Airbnbs with washers/dryers. Pack a zip-loc baggie with laundry detergent pods and dryer sheets.
2. In the absence of laundry facility, bring quick-dry clothes to rinse out in a sink with pure castile soap (Dr. Brommer's comes in lots of scents) and hang to dry. I have a great Coghlan's Bungee clothesline that is easy to use, too (no pins required). And castile soap is an all-in-one product that's ideal for efficient packing. You can use it for laundry, as body wash, dish washing, even shaving!
3. Packing in ebags ultralight packing cubes (my new favorite travel accessory) or big baggies makes it much easier to find what you brought and keep your suitcase or backpack organized. They are especially useful because you can write kids' names on them/days of the week/ clean or dirty.
4. Rent strollers, car seats, pack n plays, etc. at your destination instead of taking them with you.  There are now several services in cities, both domestically and internationally, that provide daily rentals of high chairs, booster seats, cribs and even beach toys. They deliver them right to your door. And the few the that I researched have reasonable prices: Baby's Away and Babies Get Away
5. We typically throw all of our electronics cords into a zip-loc bag. The good news is that we know that they are all in one place; the bad news is that they turn into spaghetti knots that only a grandmother can unravel. Get a travel electronics/cord organizer.  Hands down, this is one of the best $10.99 I've ever spent.  No more tangled mess of ear buds and charging cords.
What should I pack besides typical clothes, toiletries?
1. Have each kid bring their own backpack and fill them with things to keep them busy like a tablet, activity books and stickers, books to read during a road trip or flight. If you're flying with checked luggage, also include one change of clothes (important in case luggage gets lost).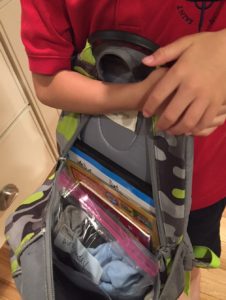 2. Kids' safety: bring bright-colored hats and wristbands with important info like parent names and phone numbers  This is especially important if you're traveling to a large, populated city or a jam-packed amusement park.
3. Dryer sheets are great to stick in shoes or just throw in your suitcase to keep your clothes smelling fresh throughout the trip.
Other important trip prep tips:
1. If you're traveling to another country: bring copies or your passport (also email pics of them to yourself and a close relative or friend).
2. Email a close relative or friend your itinerary (flight info and hotel details).
3. Write down the 800#s for your credit cards.  If something happens and you lose your
Maps Memories & Motherhood is a participant in the Amazon Services LLC Associates Program, an affiliate advertising program designed to provide a means for sites to earn advertising fees by advertising and linking to Amazon.com.