I've been to Amsterdam the most of any city in Europe – a few times as part of a vacation and several times for work (Thanks to Royal Dutch Philips!).  So, even though the city was the gateway and endpoint for our summer European Extravaganza, we only spent about 24 hours there. With Amsterdam's former reputation for coffee houses and the red light district, you might not naturally consider it a destination for kids, but there is more than enough to do.                                                                                                                                                                                                                    Amsterdam's museums are magnificent and have two of my most favorite anywhere in the world: A lover of the Impressionists since high school, the Van Gogh Museum is tremendous, showcasing not only Vincent's work but that of his contemporaries. And, in my opinion, the Anne Frank House is one of the most poignant and significant historical sites in the world.
That being said, we already had experienced eight days of museums and attractions by the time we got to Amsterdam. I was looking to do something a little more out of the ordinary, and out of the city. So we went to the countryside to see the most iconic structure in The Netherlands, the windmill.
We found the perfect spot in Zaanse Schans, a working windmill village just about 25 minutes by train outside of Central Station, Amsterdam. It's an easy 1-mile walk from the Zaanse Schans train station to the village, or you can rent bikes near the train station (you can also find biking trails throughout the area, though as windy it is, you need some strong quads).
Zaanse Schans has six working windmills that are located off the banks of the Zaans River, and on a peninsula that sticks out into the North Sea – plenty of wind to churn the blades of the mills, as my flying hair in photos attested.
The windmills produce spices, flour, oil, lumber/wood, or paint  – and each are few Euros to tour. There's really no need to see them all, unless you want to. We chose the spice mill, which punches your nose as soon as you go in the door with cinnamon and other pungent but pleasing flavors. Each mill gives a little bit of history via photos, placards, videos and sometimes, someone who works in the mill will explain how it works. We picked up some mustard and a wooden punch-out kit to make a small windmill.
The saw wood mill is definitely worth the stop. The men working there were wonderful – and explained to us how the cut trees are brought via the river on a barge, and then moved from the barge to the mill, where they cut them in varying sizes and pieces using the power of the wind.  They even let Nate and Alex try to stop the windmill from turning, but it was a gusty day and no matter how hard they pulled on the ropes, the wind was more than a match for my tiny boys. And, I particularly enjoyed this one because a cat lived there, too.
Albeit a bit contrived and cheesy, with droves of tour buses and souvenir shops, you can still get the feel of an 1800's village. Honestly, it's a little more touristy Dutch version of Williamsburg, Virginia, but we still loved it. There's a Gouda cheesemaker with demonstrations (and must-have blocks of cheese to take home); a wooden shoe shop, where they show you how to carve them from a block of wood;  silversmiths, barrel makers and other period shops giving a glimpse back into life 200 years ago.
There is a traditional pancake restaurant, but it had tourist prices. $15 for three flat pancakes and strawberries is steep, but we wanted to go to a Dutch pancake house, so we chalked it up to another experience that we won't have again anytime soon. There are other restaurants and deli counters as well. I wanted to try a grilled Gouda sandwich at the cheese shop, but was outvoted in favor of  the pannekoeks.
The village really is charming, though, with canals running throughout, picturesque cottages with perfectly manicured gardens, goats, sheep and chickens dotting the landscape and eager for a pet or bit of food (which you can purchase at bubble gum machines, and wooden shoes big enough for you to sit in and take a photo. There is also the Zaans museum, which details the history of biscuits and chocolate, and the Windmill Museum has more about the history of windmills and scale models, but this was our "traditional museum" day off, so we didn't visit them.
It was one of my favorite days on our trip, and I loved taking the kids out to the countryside to experience Dutch life circa 1800 – they learned a bit of history without it feeling like school or reading about it on a placard. You could easily spend four or five hours in Zaanse Schans.
There is also a chocolate factory in town, so as you walk from the trains station to the village you are greeted with a lovely chocolate aroma.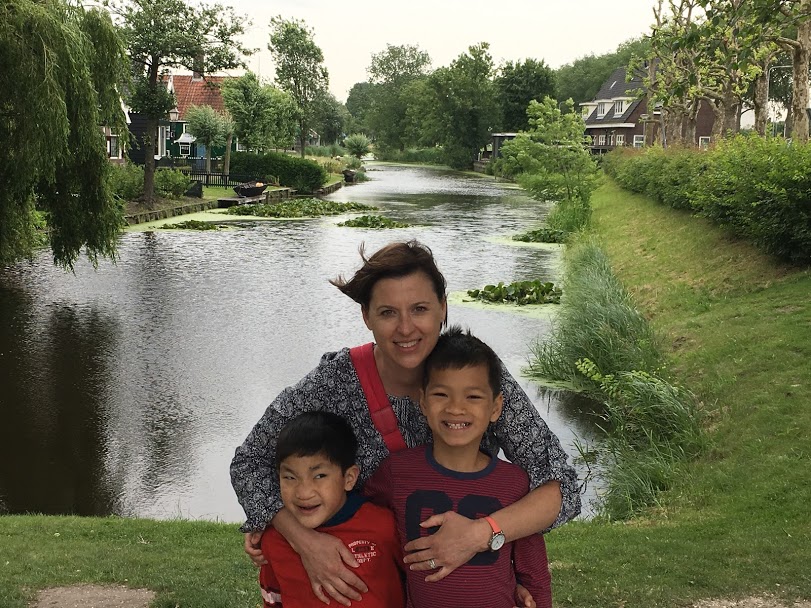 I highly recommend searching out smaller towns when you're traveling abroad. Another great day-trip we've done was to Salisbury, England to see the Cathedral, but what we also found was a darling town where we ate breakfast and walked around some shops, and a nice way to spend a day outside bustling London.
Our only other stop in Amsterdam was the Anne Frank House. For us, it was really important that we take the kids there, despite them knowing little about World War II, Nazi occupation and the incredible story of the Franks. We did tell them a little bit about it before going. We were honest, but careful, as we know our boys were not fully ready to hear the full atrocities of the Nazis and what happened to the family. However, we know that eventually they will read the book and remember being able to touch the window pane Anne looked out or going through the door hidden by a bookcase that kept their family hidden and they will marvel that they experienced history in such an intimate way.
The curators have done an incredible job of telling her family's story, giving you goosebumps with the audio tour as you move from room to room in the actual building where the Frank family stayed  – with their original photos, letters and postcards, furniture and even the bathroom sink.
There was a point in the museum's timeline progress where the boys, particularly Nate, started to feel uncomfortable, mostly after the family was captured, so we simply walked through those last few rooms without stopping to hear the audio or see the displays. And while the full effect of the tour will likely not be understood for a few more years, it was definitely worth doing.
One tip – be sure to purchase tickets to the museum at least 3 to 4 weeks in advance, and possibly earlier if you're going in peak season.
We did stay in a great AirBnB right on a canal during our stay, which gave the boys a taste of home life – not dissimilar from theirs, except for the sun staying up until 10pm in the summer. And, we walked from the Anne Frank House to the apartment and passed several coffee shops selling items stronger than caffeinated hot beverages – the boys had no clue, but there eyes were wide open at the activity and all the people around. Just part of the charm and interest of Amsterdam!