Lions, tigers and cougars, oh my! The Exotic Feline Rescue Center (EFRC) in Terre Haute, Indiana (about 1 hour west of Indianapolis) is one of my favorite places in the state. It's a perfect destination for families of all ages and sizes – we love taking out of town guests to visit. We've been five or six times, and we took advantage of a rare sunny and warmish day this winter to go back again. It's possible that I love it even more than my kids.
With nearly 200 felines in residence, the Rescue is federally licensed by the U.S. Dept of Agriculture to take in big cats, who have been mistreated, displaced, or whose owners (yes, some people think it is a good idea to have a cougar as a house pet!) can no longer take care of them. The Rescue is one of the largest centers for big cats in the U.S., and works with the U.S. Dept of Agriculture, US Fish and Wildlife, and several zoos to be a place of refuge for big cats. They are often called in extreme circumstances to drive across several states to pick up cats in need. The Center's goals are to give exotic felines a natural enviroment to live out their lives and to educate the public about these precious animals. They save these amazing creatures from terrible circumstances and provide them with a sanctuary – space, food, medical care, shelter and playtime.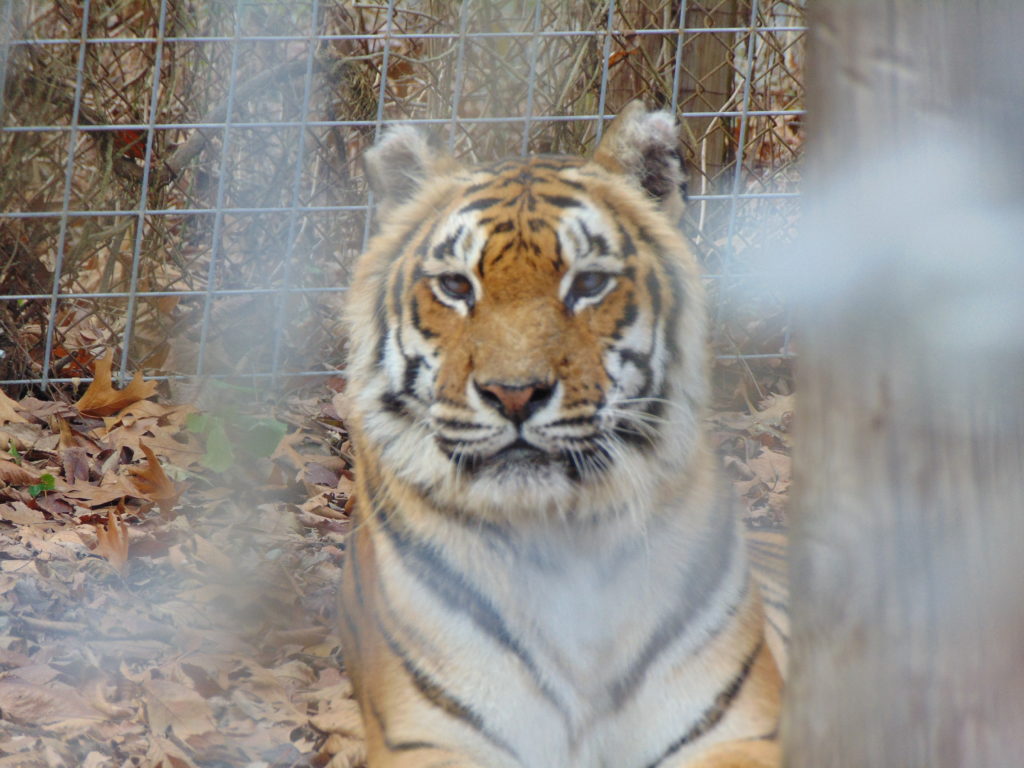 Located on more than 100 acres, out in the middle of some corn fields, the Rescue is a special place, even if you don't love cats.
To view the cats, you have to go on a tour as you cannot wander about the grounds by yourself, nor can you touch, pet, or interact with them – they are literally inches away on the other side of a chainlink fence. Volunteer tour guides take you on a 1-mile walk around the property and provide details on each of the cats, telling their histories – where they came from, their favorite things, and their personalities. There are about 50 cats on the tour – a black leopard, dozens of tigers (including white tigers), lions, cougars, lynx, bobcats, ocelots, Savannahs, leopards and servals. The path is gravel, so wear comfortable shoes and use strollers with larger or all-terrain-type wheels – umbrella strollers would be tough to navigate.
You can get up close and personal with these gorgeous felines, much closer than most zoos. The chainlinked fencing is the only thing that separates you from them. The guides do note that if you see a cat lift its tail to keep your distance, as they have been known to spray – that's how close you are!
We heard Zoe, a beautiful female cougar, whom was someone's pet before she came to the rescue, purr loudly when we stopped by her enclosure. She acted like a housecat, rolling on her back and following the guide as she walked back and forth. I couldn't help but coo to her like she was one of my sweet domesticated boys, "Hi pretty, kitty, kitty."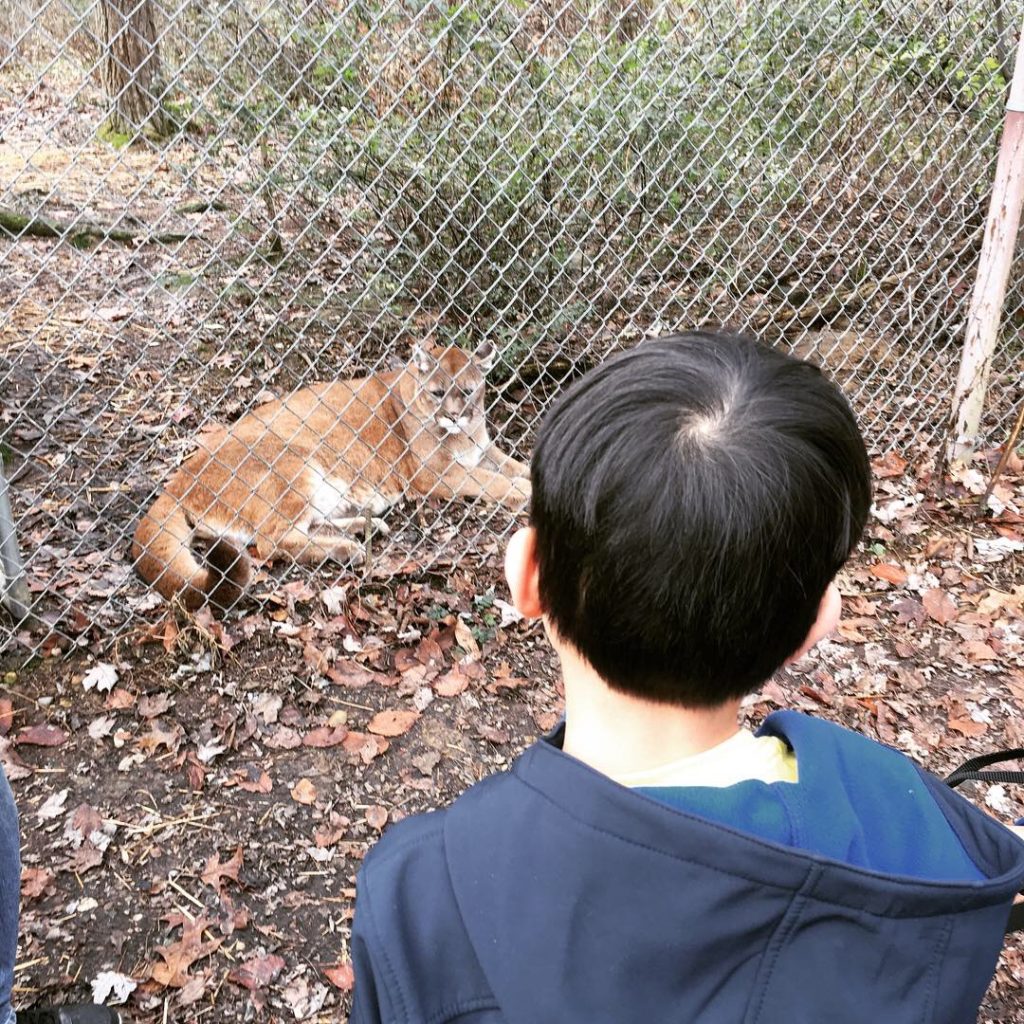 Many of the tigers chuff when you greet them – it's like a loud purr that they make when they are happy. Some will rub up against the fencing, as if they are a housecat rubbing up against your leg. They're just 100x the weight! However, at times they, and the lions, like to show off how loud they can be and you'll hear several big roars within a few minutes of each other – cool and spine-tingling! The rescue has more than 75 tigers, the most of any species.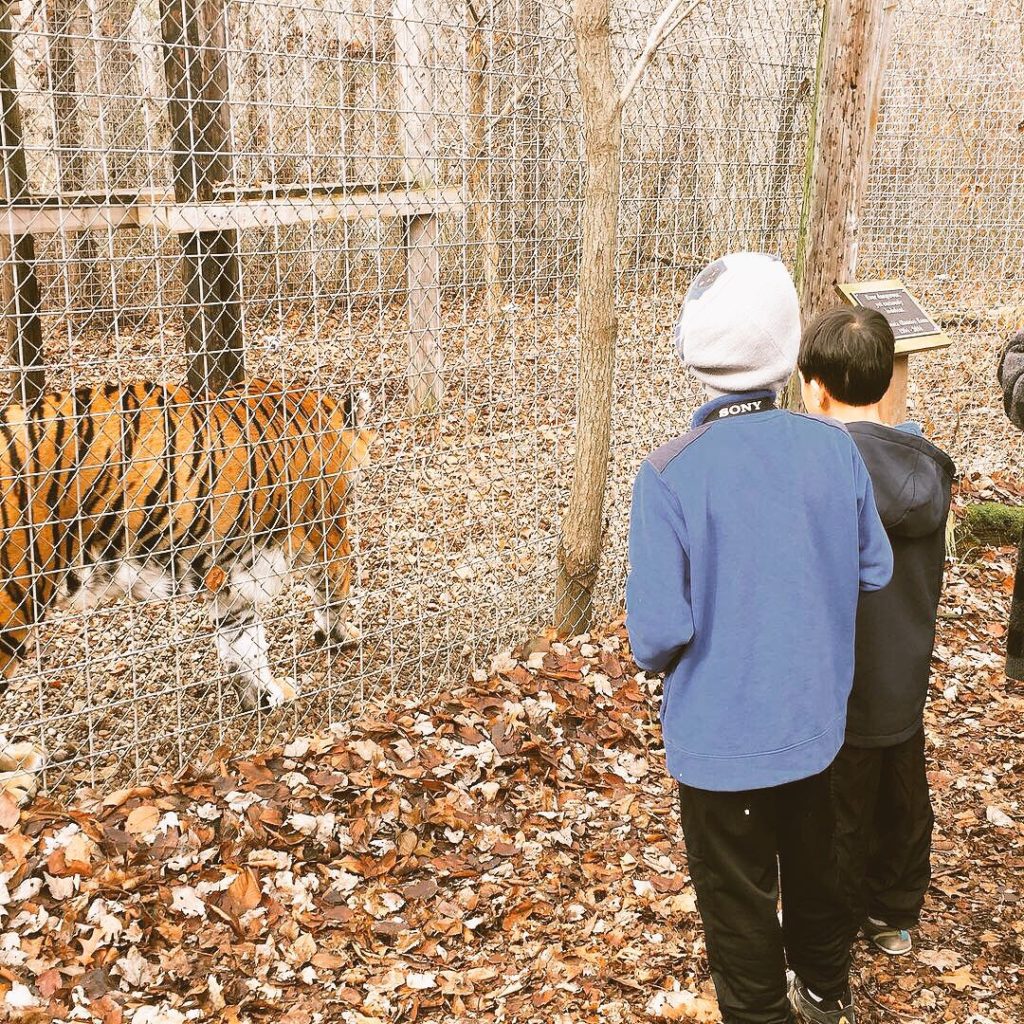 We loved watching George and Rodney, the leopards, play and purr with each other. And learned that all white tigers originate from one decendent and that most are inbred because ill-intentioned people try to profit from having a unique and rare cat. It's heartbreaking because the inbreeding causes neurological and other problems for many of the cats. Luckily, the Center is there to provide them with care and a home.
The smaller exotics are some of the most beautiful of the bunch – they have bobcats, an ocelot, servals and an Asian leopard cat. Some of my favorites were two Savannah cats (domestic housecats bred with a serval) Phoenix and Nermal (Garfield's little cousin's name). People often pay thousands of dollars for Savannahs to have them as pets.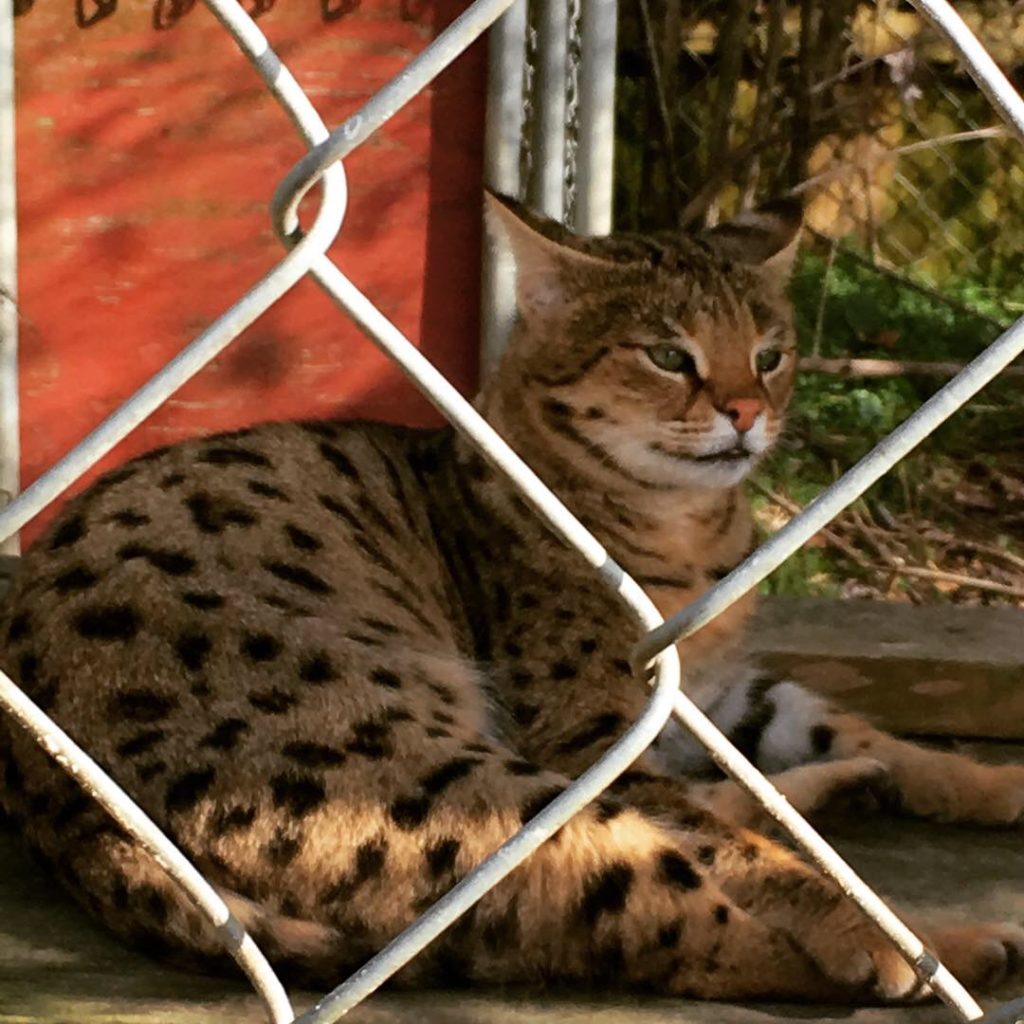 Most of the cats live past what their life span would be in the wild – often times, nearly doubling that age. We loved seeing elderly Majae, a black leopard who is 17 years old, sunning himself on a platform that served as his "lounging in a tree" as if he were in the wild.
The Rescue is a non-profit organization that only makes money through tours, some fund raisers and from the grants they receive from foundations. They have a couple of really neat events over the course of the year. One is a 5k "Run Through the Jungle", where you can journey through the Center, perhaps with quicker steps that normal if you pretend one of these feline beauties is chasing you. I am adding this to our calendar. Another is their annual Pumpkin Party which is always the first Saturday after Halloween. It's the only time when you can tour on your own as there are volunteers stationed at each cat enclosure. The cats get pumpkins to play with, eat, smash, and roll around. Wonder what the big guys would be like on cat nip?
Adults can also spend the night at the on-site guest house and get some behind the scenes views of cats not on the regular tour. Imagine waking to the roar of a lion in the middle of Indiana!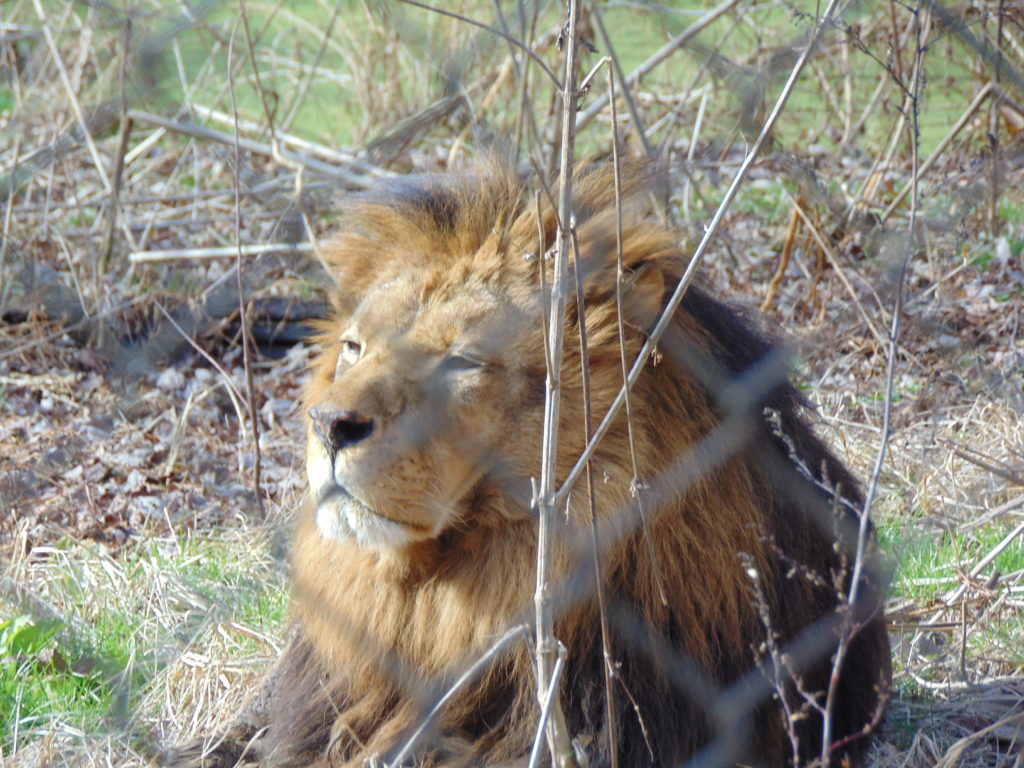 My boys and I are always enthralled by the EFRC – how close you are to the cats, hearing them roar, and knowing their stories. My 8-year old son loved learning all of the cats' names, and he devoured the EFRC newsletter on the way home, telling me even more details about some of these gorgeous kitties — and wanting to know even more. What more can you ask of a place than for your child to learn and then be eager for additional knowledge?
Touring the Center is truly a unique experience, and is close as we've ever gotten to being on a safari and seeing big cats in the wild.
Getting there: Exotic Feline Rescue Center is located in Center Point, Indiana – about six miles off of I-70 near Terre Haute. They are open all seven days of the week and are rarely closed, even for holidays. Tours are $10 per person 13 and older; $5 per person 12 and under.
P.S.
Guides have told us that many of the cats, particulary the tigers, really enjoy the colder months, so winter is as good a time as any to check them out!