National Parks have been the location for two monumental life milestones for me. I fell in love with a boy camping in a tent on the banks of the Colorado River overlooking the red rocks and monoliths of Arches National Park in Utah and got engaged after hiking up to a beautiful vista above the geysers at Yellowstone National Park (both the result of dating a nature lover from Utah). Marrying that outdoors guy has exposed me to Canyonlands National Park, Natural Bridges National Monument, Grand Tetons and others.
However living east of the Mississippi my whole life has made it tougher to visit as most are West of the river. And, living in Indiana makes it even difficult. We're pretty far away from most National Parks (the two closest are Mammoth Cave about three and a half hours away and the next closest is the Great Smokey Mountains which is almost seven hours). With the parks service budget being slashed, land being taken away, and oil drilling rumored at some these natural, national treasures, now more than ever, I wanted to take my boys to visit America's beautiful landscapes.
There are 47 National Parks from Maine to Florida, Alaska to Guam, and parks that range from Carlsbad Caverns that take you deep into the bowels of the earth, the Everglades which is mostly accessible by air boat to Dry Tortas off the coast of Key West, which is only accessible by seaplane or boat.
So we kicked off our "Year of the National Parks" by going to Mammoth Cave National Park just after Christmas. That being said, I'm sad to say that I lived within an hour and a half of Mammoth Cave in Cave City, Kentucky (about half way between Louisville and Nashville – 90 minutes each way) for 18 years of my life and never went.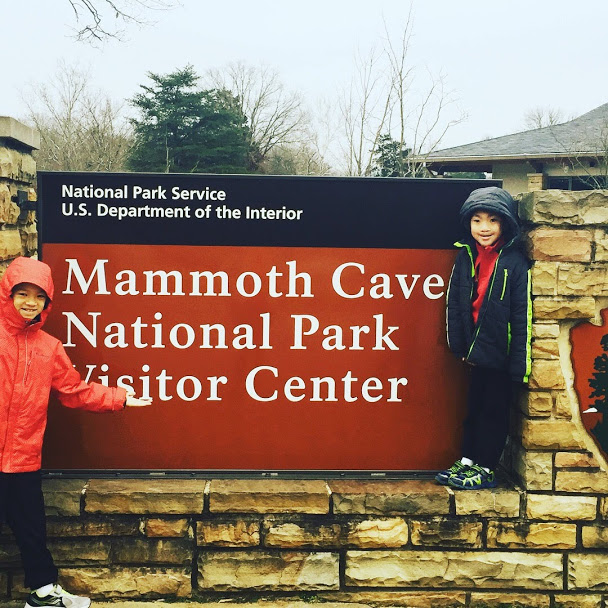 So, I don't love caves. I'm not claustrophobic, but I don't enjoy small spaces either, or ducking my head under stalactites 70 feet below the Earth's surface. There are several small caves in Southern Indiana, and I have begrudgingly volunteered to go with my sons' class trips. That being said, Mammoth Cave is a completely different experience because of its vastness.
Since caves generally maintain a fairly steady temperature no matter the thermometer outside, we decided to venture there during our Christmas holiday.
There is a kid-friendly, informative Visitor's Center where you can purchase tour tickets and learn a little about the vast 400-mile cave system that lies below the Kentucky surface, but better yet, go online and order them in advance as many sell out before the tour date. You cannot go in the cave without a ranger guide. There are several tours to choose from – from 75 minutes up to four hours, for agile cave dwellers and those who need handicap accessibility and various types of cave formations. There are a lot of other caves in the area as well if you want to spelunk some more as well as hiking, kayaking/canoeing and camping.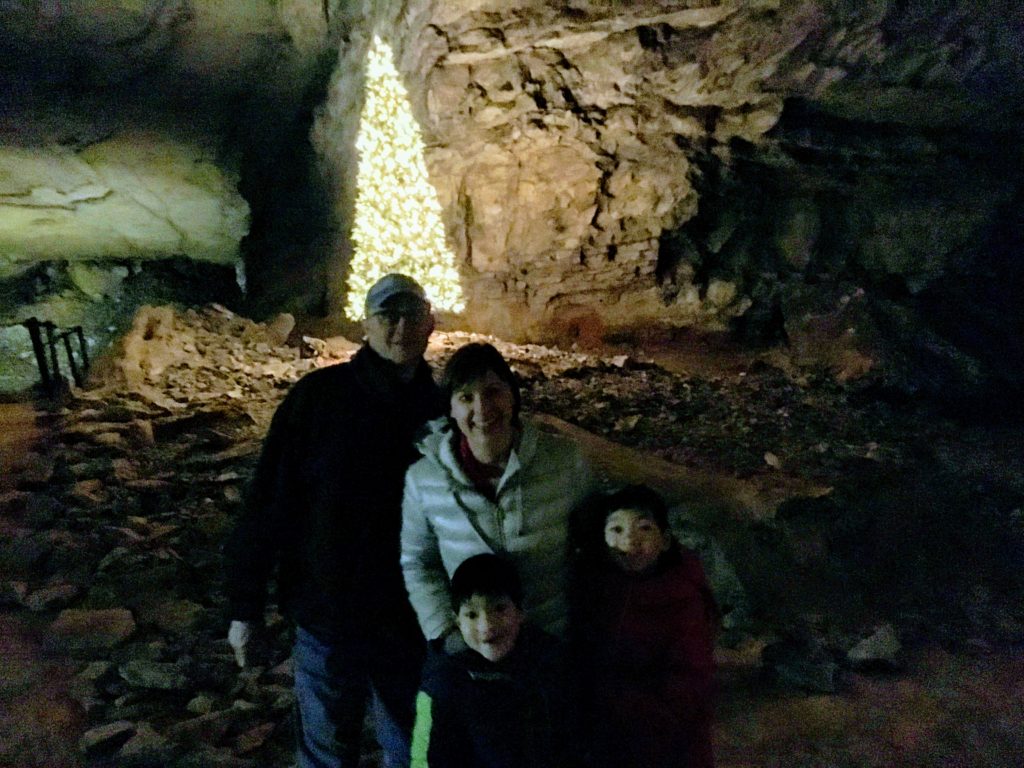 GETTING THERE: Mammoth Cave is about 90 minutes south of Louisville, KY and 60 minutes north of Nashville, TN off I-65. You'll drive another 15 minutes or so off the highway to get to the park.
During our spring break trip to San Francisco, we visited the Golden Gate National Recreation Area which is actually comprised of several different locations, including several beaches where you can get great views of the Golden Gate Bridge, the Presidio area, Alcatraz Island, and our favorite, Muir Woods National Monument. We kept looking up at the huge trees as well as searching low for Ewoks because we felt like we we were on Star Wars' planet Endor (from Return of the Jedi – and filmed in nearby Redwood National and State Park). A lover of the southern Utah landscape, my husband was in awe as he had never seen anything quite like the massive forest and trees that canopied the ferns and moss growing below. It's truly magical there and even though it's a quick trip (about 40 minutes) from San Francisco, you feel like you've entered a magical world.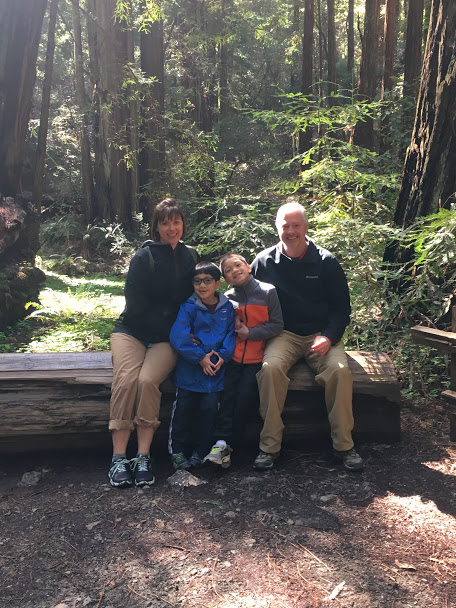 As my boys are still getting their hiking chops up to snuff, we only did a 3km hike around, but you could spend days hiking the majestic landscapes – not only walking among the Giant Redwood trees, but you can also viewing incredible vistas of the Pacific Ocean.
GETTING THERE: It's an easy drive from San Francisco proper, but you will want to purchase a parking pass for the park online, and in advance, as there are limited spaces. There are also several shuttles and tour buses that will take you from San Francisco to Muir Woods.
In June, Great Smokey Mountains National Park, which is the most visited National Park in the U.S., was the location of our annual reunion with families who also adopted children from the same orphanage as Nate. We loved our weekend at Fontana Village, North Carolina at the Fontana Village Resort – it's a much quieter spot than the oft-traveled and touristy Gatlinburg and Pigeon Forge (where there are oodles of things to do – shows, DollyWood, etc., just not where we wanted to go). The mountains are breathtaking – and you can relax or enjoy water sports, hiking, or several of the other activities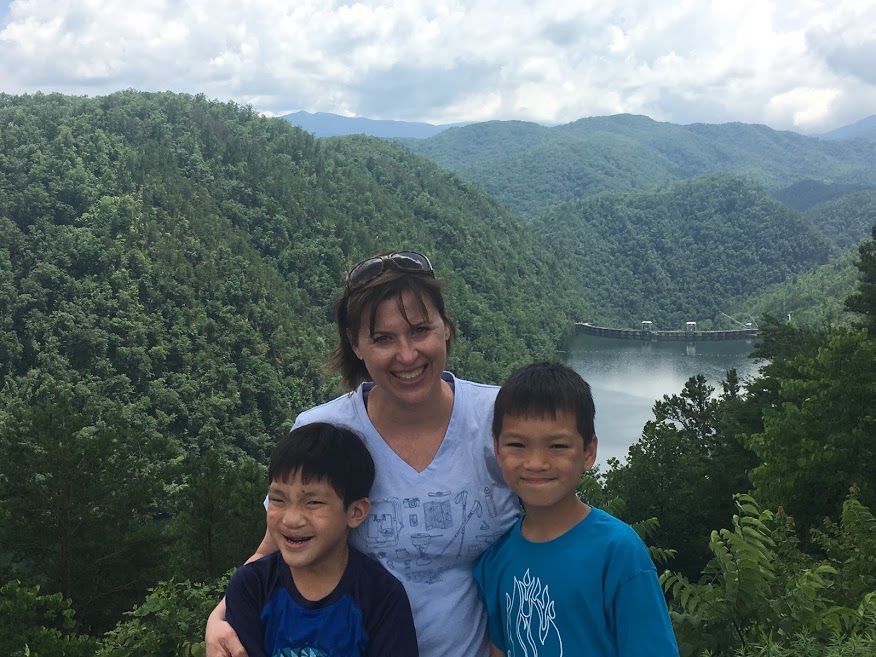 And, even though I was not with my family, I was fortunate to have a day at Rocky Mountain National Park while I visited a dear friend in Colorado. I went when I was about 12-years old, and it was every bit as breathtaking and scenic as I remember it. I am on a personal quest to see a moose in the wild (which despite multiple trips to Utah, Idaho, Maine, Vermont and New Hampshire, have eluded me), so my girlfriend and I hiked a few trails where moose frequented. We didn't spot any, but did see some other beautiful wildlife – deer, caribou and Stellar Jays. The aspen trees were just starting to turn their beautiful golden color for the fall. It also really made me want to take the boys there.
One of my favorite childhood memories was a trip to Rocky Mountain with my family. It was June and there was still snow on the high peaks – we hiked up a clearing of snow and slid down in our jeans dozens of time, not carrying that our pants were soaked. And one of my favorite pictures is of me, my sister and my dad in our sweatshirts, playing in the snow.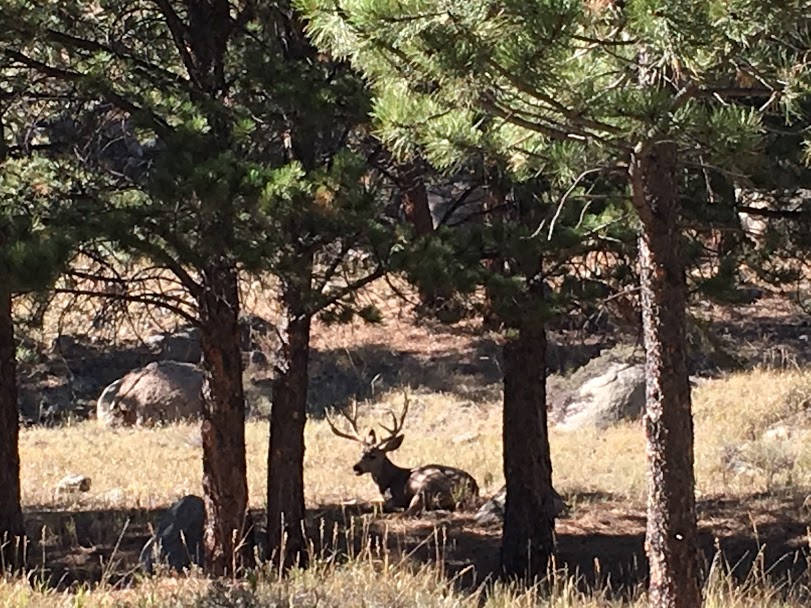 Especially for Kids
The Junior Park Ranger Program is a great way to get the kids involved in what they're seeing, and interested in exploring the parks. Their motto is: "Explore, Learn and Protect". Simply get an activity book at the information/visitor center, complete a series of activities within a park, share the answers with a park ranger and receive a Junior Ranger Patch and Certificate. If you don't complete all of the answers while on site, you can mail them in and get your prizes.
One of the best programs that the US National Park Service has for kids is the "Every Kid in a Park" program. All 4th graders can get one by signing up atwww.everykidinapark.gov The pass is good during the school year (August to July) – and includes free admission to US National Park Service sites for all children under 16 and up to three adults.
So much of American history and its beautiful, varying, and unspoiled landscapes are at U.S. National Parks. My goal is to keep seeing as many as we can.